Zibulon 2 - Update 1.2 Released
---
Ahoi everyone!

Been a while since the last update, but this one should definitely help the quality of the game!
New Server Browser



It's now easier than ever to find and play with other people! Anyone that hosts a game "provided their chosen ports are forwarded" will have their games show up to everyone via the new server browser!
You can also see how many players are online and ingame at any time in the main-menu.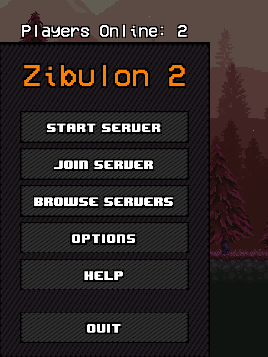 New Weapon - Minigun








Changelog:
Added new Server Browser
Added new weapon - Minigun
Armored Goliath now spawns in wave 8
Increased amount of aliens spawned to 64 on wave 1
Players can no longer re-join mid-game to revive themselves
Drastically improved performance of bullets on screen
Bug fixes as usual
Files
Zibulon 2 v1.2 Linux.zip
37 MB
Dec 16, 2018
Zibulon 2 v1.2 Mac.zip
37 MB
Dec 16, 2018
Get Zibulon 2 - Multiplayer Online Co-op Edition